Aha! From September 2007
I love how "recent" in this guide now refers to something from 10+ years ago.
Guide #1: Tips on Identifying Counterfeits
I hope to ensure that the Diane von Furstenberg that you buy is the authentic, high-quality, gorgeous piece that it should be!
I do not represent the brand in any way and this guide is based on personal experience as a collector and buyer of these wonderful clothes.Disclaimer: This guide is written without the permission or authority of DvF and they can not vouch for the information contained herein.
I am a DvF-focused personal shopper and buy directly from the DvF shops for my clients, so I am up-to-date on each collection and can spot fakes on eBay very quickly. Let's be clear: I do not work for DvF and am not associated with Diane von Furstenberg Studios LLP or DvF herself , but I am a personal shopper who buys mainly from this designer for my clients. This guide is based on my extensive experience buying DvF and include tidbits and tips I have learned from the DvF shopgirls.
DvF makes sizes US0 through US14 for the Ready to Wear line and her boutiques are located in NYC, Miami, Los Angeles, London, Paris, Hong Kong, Shanghai, Antwerp, Brussels, Tokyo, Jakarta and St. Tropez. Madrid and Moscow to open Fall 2007!
How to Spot a Counterfeit DvF
I have found that DvF is rather predictable and structured about when/if/how their clothing goes on sale. If something just arrived in shops, it will NOT go on sale for some time. Stylists, media/fashion insiders and personal shoppers are occasionally extended discounts, but not usually of more than 10 or 20%; that's about the only way to get a recently-arrived DvF at below retail unless the item is a one-off from a photo shoot, runway show, movie set or PR event. If an item reaches sale season, anywhere from 8 to 12 weeks after it arrives in shops, the first mark-down is usually 30% off. Then if it is still around weeks later, it may be marked down to 40% off the original price; unfortunately, very few DvFs last that long in the shops because they're just too popular! Thus, first thing to note is that
[1] if an item currently in shops is offered for a lot lower than its retail price, it is probably too good to be true
. Unless you are buying something from a previous season, it can not realistically be so much lower than the DvF shop price. If someone receives a DvF as a gift but can not wear/return it, then it might get listed on eBay at a very low price -- that's a one-off type of listing and fabulous find for you!
By contrast,
[2] counterfeit sellers usually offer several of the same item but only in sizes 2, 4, 6 and 8
; I have not seen many fake 10s, 12s or 14s on eBay yet. Most counterfeits thieves will either copy the cut of a DvF dress and make it in a similar print OR they will use real DvF fabric but make a similar-looking item. They're getting more brazen yet clever with the copies, so be alert!
If you know your DvFs well, ask for photos of the actual item from the seller and look for
[3] telltale signs
:
material

: compare print and fabric content to the actual DvF item found in a reputable shop --authentic silk jersey items by DvF say '100% silk' on the tags whereas the fakes have '100% silk jersey' on their tags!

detailing

: look at the trim, buttons, cuffs and compare to the real DvF item

tags in two areas

:
[1] DvFs from circa 1997-1999 have the large white-on-black

Diane

signature tag. Around 1999 or 2000, she changed to the black-on-white typed

DIANE von FURSTENBERG

tag found on items you see these days. DvF's reissued vintage items have a large pink

Vintage

script on the tag and they recently added a pastel, typed

MATERNITY

on the tags of the Maternity collection items.

[2] If made in China, Korea or Poland, the fabric content tag is usually a white tag at the neckline with the size written on it.

If made in the US, the tag at the neckline is usually a small square at the neckline, either black or white, and indicates just the size. The fabric content will be on a larger tag inside the dress, along the side seam.

(this last tag is from the Clia and happens to note the style name)
EXCEPTION: Silk jersey wraps from the 2006 Resort Collection had a slightly different fabric content tag: these are longer, 2.5cm x 1cm, and printed instead of the previous 1cm x 1cm stitched tags.


cut & detailing:

Julian and Jeanne wraps from 1997-2000 were usually made with a seam at the waist, but recent Julian and Jeanne wraps do not have that seam; Julie wraps still do have a waist seam to this day. The body of Julian and Jeanne silk jersey wraps from post-2000 are one solid panel in the back, one solid panel on the left, and one solid panel on the right. The Clodhall, a classic halter wrap by DvF, has a double-button detail at the back of the neck. The wool Revolutionary Duenne wraps have antiqued brass buttons. The Taffy is fully lined through in the torso, except sleeves, and skirt. These little details can make the difference!
Most of the time, DvFs have a
[4] little 1cm x 1cm white tag inside
at the side seam which indicates the name of the style of the item. Not all DvFs have this, though; the wool and rayon items do not always have this feature and items from the DvF showroom or design studio will not have this either. However, many DvFs
do
have this and it helps you identify the style name. I have not seen this little tag on the fakes yet.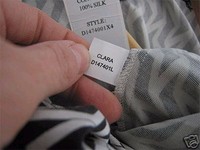 Since 2007, more and more DvFs have their tags sewn with the ends folded at an angle to the dress material, instead of sewn flat.

While some authentic DvFs will still have flat tags, the tag sewn at an angle make is more likely that the item may be authentic, though still not a surefire indicator (see my Guide Part 5).
A few other rules:
[5]
Many counterfeit sellers ship from Asia
. A $20 domestic shipping fee for an item supposedly shipped from another US state is often a tip-off that is ships from Asia. Sometimes, a seller will just charge higher shipping to offset a lower selling price, so high shipping is not always an indicator of a fake.
[6]
Most counterfeiters have eBay IDs registered in Asia, including Australia
. The tricky thing is that fraud sellers have created US-based and UK-based eBay IDs now. Note that not all Asian sellers offer counterfeits and not all counterfeit sellers are based in Asia.
[7]
Be wary of private auctions
. Counterfeit sellers do this to prevent people from contacting their bidders to warn them that the auction is for a fake DvF. Also, private auctions enable the seller to create dummy users to bid up their own auctions. Again, not all private auctions are run by scammers, but look for this in conjunction with other red flags.
A seller's feedback is not a good predictor of authenticity because a lot of buyers do not know the difference between a real and fake DvF!
[8]
It is generally safer to buy from DvF specialists:
There are a core group of reputable sellers who have been offering DvF on eBay for quite some time. Seasoned veterans are more likely to sell the real thing and KNOW what the real thing is supposed to be, so that we don't get tricked into selling fakes. Look at the seller's feedback to see if it is for mainly DvFs. Feedback for other high-end labels are a better sign than if the person has feedback for other oft-counterfeited brands, like BCBG, Chloe, Cacharel and Mark Jacobs. Also, repeat business, especially from DvF fans and collectors are a sign that the seller probably knows her/his DvFs!
Examples of recent counterfeit DvFs on eBay:
2004: counterfeit Healing Garden cotton dresses. The print on the dress was NOT the same as the real DvF dress.
Early 2005: counterfeit Hilda wraps, Bosphorous Attica wraps & Eli dresses. The fake Hilda had a similar-looking print, but a close-up could confirm big differences. The easier tip-off to spot was that the counterfeit had a cotton lining while the real dress was 100% silk without a lining! The Bosphorous Attica was totally the wrong color with too much teal in the print, and you could tell because all the photos were doctored.
Mid-2005: counterfeit Leopard Brown print wraps in short sleeve and halter versions. The tags were tip-off #1: they were the large

Diane

signature from the 1990s so could not be 'current season' as sellers claimed. DvF had indeed released the Leopard Brown in a vintage reissue in 2004, but offered only the long-sleeve Jeanne style; a quick call to the DvF shop verified that the Leopard Brown was not made in the short-sleeve or halter styles in recent years.
Late 2005: counterfeit wool items such as Alonzita ('seamed dress'), Duenne wraps, Revolutionary Duenne wraps, Boka wrap and Thea dress. The biggest tip-off was that the size tags at the neckline: real wool DvFs were all made in the US and should have black size tags. The counterfeits' tags were white and indicated a lining, but DvF's wool items are not lined! The Revolutionary Duenne even had very ugly, cheap buttons.
Early 2006: counterfeit Taffy, Fariba, Antonio, Sundial Justin, Twig Roberto, Tie Dye Julian, Rubix Jeanne, Marble Paper Dasha, Cupid Zhivago Svetlana, and pieces from the 2006 La Dolce Vita Collection. The real Julian wraps should NOT have the seam at the waist and you can see that the prints are all a little bit different than the real thing. The current season wraps wraps are NOT made of chiffon (except for Cupid Svet) nor cotton (except for Roberto). The ugly plastic button on the Svetlana give them away as being fakes. The Taffy is not available in black and should be fully lined. The color spots on the Tie Dye should have uneven edges, not smooth bubble edges! And just because the Anita dress was made in cotton does not mean that the Julian was. I see the counterfeit sellers trying to justify why their items are a little different from the real thing, but please go with your instincts and avoid the auction if the answers don't feel quite right
Fake Clia wraps just showed up on eBay and are totally ugly and wrong, compared to the real thing. The Clia should be stretch corduroy, so 98% cotton/2% elastane AND the buttons are flat, brass-finish metal buttons, not those hideous plastic fake-gold buttons you see on the cheap imitations.
Check my follow-up eBay guide (Part 2) for an continually updated list of the most recent counterfeited items found on eBay: https://reviews.ebay.com/List-of-the-latest-DvF-wraps-how-to-spot-a-fake-part-2_W0QQugidZ10000000000949772
Since I am not any sort of licensed expert, I do urge you to contact any DvF shop if you have questions about what the authentic item should look like. If you know the print & style name, the shopgirls can likely verify for you what the tags, detailing, color and cut of the real thing is actually like so that you can feel better about the item you want to bid on. The shopgirls are often busy since DvF is such a popular shop, so be prepared with specific questions (see tip #3 above) for your comparison.
ALWAYS REPORT A COUNTERFEIT ITEM to eBAY!!!
Report suspected counterfeit sellers to eBay and especially if you receive an item that you KNOW is fake! Burberry recently set up a sting operation to catch sellers of counterfeit Burberry on eBay, and they would not have been as successful catching the thieves without the help of people who received and reported the fakes. **It is not a crime to buy a counterfeit, but it is a crime to sell counterfeit items.**
I am a huge DvF fan and collector and it saddens me to see the fakes proliferating on eBay. If someone's first DvF experience is with a counterfeit piece, they may never buy DvF again, so I hope this guide can help prevent that. I also hope that this guide will help other dedicated DvF fans avoid the fraudulent pieces; I have heard from many disappointed buyers who were hoping for a deal, but instead received a shoddy, unwearable rag. It is not always worthwhile to get what seems like a deal if what you get is ill-fitting, poorly cut, poorly finished or just plain ugly! DvFs retain their resale value very well, so you don't always get a bargain just because you pay less.
Feel free to email me (eBay ID: DvF!) or visit my DvF blog-shop (dvfs.blogspot.com) to find out more about DvFs and my personal shopping services. I can try to help you find specific items you are looking for and list it on eBay for you, so feel free to email me with any requests.
Happy shopping!